Clarence Mill is a former cotton spinning mill in Cheshire, built in 1834, with major changes carried out in 1841, 1856 and 1877.
The mill, which is located in Bollington, was built alongside the Macclesfield Canal which had just opened in 1831.
The mill was built for the Swindells Family as a combined mill doing both spinning, weaving and finishing. They used the canal to bring in raw cotton and coal (for the steam engines) to Clarence Mill and then to transport out finnished cloth ready for use.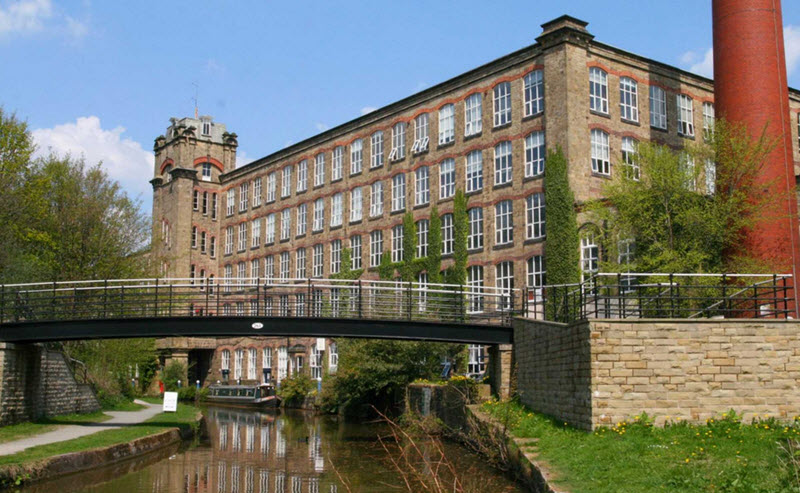 The textile industry died out in Chesire in the 1970s, but the Clarence Mill wasn't demolished. Today, it has been converted into offices, and the Clarence Mill is also home to the Bollington Civi Trust Heritage Centre.
The Clarence Mill is located on Clarence Road in the northern part of Bollington. By road, the distance to Manchester is approximately 15 miles.
Short facts
Owners
1.) Martin Swindell and Joseph Brookes

2.) Swindells & Brookes & Co Ltd

3.) George Swindells & Co

4.) Fine Cotton Spinners and Doublers Association Ltd

Location
Bollington, Cheshire, England
Coordinates
53.3008°N 2.1005°W
The building & The Equippment
1834
The Clarence Mill is a five-storey building and has been ever since it was first erected in 1834. When it commenced operation for the first time, it consisted of a five-storey spinning mill, a two-storey weaving shed (60 metres by 11 metres) and an engine house with a detached chimney.
When Clarence Mill opened in 1834, there was 320 looms in the two-storey weaving shed. The looms were placed in rows of four, with each row consisting of one 2.7 metre wide loom and three 2.1 metre wide looms. There was a central 0.9 metre wide alley and two wall alleys, each 0.4 metres in width.
In 1834, the Clarence Mill had twelve mules with 6,000 spindles. Some were self-actors while others had to be hand operated. The hand operated ones were used for counts to fine to be produced by the self-actors of the time.
1841
In 1841, a new five-storey spinning mill and a new weaving shed was added to Clarence Mill, together with a second chimney, a new boiler house and a gas retort.
The new weaving shed was set up just like the old one.
The house for the spinning mules were 20 bays long and sufficiently big for eight pairs of spinning mules on the third and fourth storey. The building was of hammer-dressed sandstone with green and Welsh slate roof.
1854
In 1854, a new 15 bay spinning mill was added to Clarence Mill. This structure was 16 metres wide and large enough to house really large self-acting mules with a very high number of spindles.
1877
A new five-storey spinning mill was added in 1877. It was constructed out of yellow sandstone and featured decorative courses of red Accrington brick. The building was five-storey high built on a basement and the roof was a hipp mansard one. To prevent fire damage, the mill was constructed in accordance with the new Stott 1871 patent for fireproofing.
The new mill was 16 bays long and featured a floor separation of 4.1 metres. The columns holding up the roof was placed 3.2 metres apart to accomodate for extra long and wide mules. To make this possible, each cast iron column did not support each longitudinal rolled iron beam; instead it supported a capital holding a cross beam. The new system of columns, beams and cross beams was so strong that the exterior walls became much less important as load bearing walls. This in turn made it possible to make really big windows in the walls, to create a better work environment and ensure that sunlight could reach all the way into the centre of the work space.
Each floor of the mill housed eight pairs of enormous 1,050 spindle mules from Asa Lees.
To ensure sufficient water, a six-stage water tower was included in one corner. The other corners contained urinals hidden bihind clasping pilasters.
The new mill was powered by a pair of 700 hp compound engines from W & J Galloway & Sons. They were combined with a pair of 500 hp condensing beam engines, each with a Green's Economiser.
Owners
Francis Swindell
The mill was built for the Swindells family, who dominated the cotton spinning industry in Bollington at the time.
In 1779, the young Francis Swindell (1763-1823) had ran away from his home in rural Cheshire and made a life for himself in London. Later, he moved back to Cheshire and settled in Stockport where he became a successful cotton manufacture together with his brother.
Martin Swindell
Francis son Martin Swindell (1814-1880) initially ran several mills in Bollington from Stockport, but in 1830 he moved to Pott Hall in Pott Shrigley to be closer to the Bollington mills. He invested in the Macclesfireld Canal, which opened in 1831, and decided to have Clarence Mill erected right next to the canal.
Clarence Mill was a partnership between Martin and Joseph Brookes, who was married to Martin's sister Annie.
Brookes Swindells and Company Ltd
Joint stock companies with limited liability for the owners began to appear in East Cheshire in the mid-1860s. Swindell and Brookes took an interest in this way of running a business, and in 1876 they formed the Brookes Swindells and Company Ltd. Swindel and Brooks floated 12,000 shares in their newly formed company (£10 each) to bring in money for an expansion, but it didn't turn out as well as planned.
In 1877, the Clarence Mill was taken over by George Swindells and Co (George Swindell was Martin's brother) and it soon became a part of The Fine Cotton Spinners and Doublers Association Ltd.
To survive increasing competition during the last decades of the 19th century, the Swindells concentrated on creating extremely find cotton counts for lace and muslins. This practise continued into the new century, an by 1940 the Swindells were spinning Sylex – a cotton yarn so fine it was almost like silk. This was also the era when the Clarence Mill started spinning actual silk.