Nether Alderley Mill is an old corn mill that has been restored to offer guided tours and fun demonstrations. It is located in Cheshire, has a Grade II rating and is owned by the National Trust. One of around 20,000 buildings in England with a Grade II rating, and this means that the site is protected and that no alterations can be made without special permission. This also means that the building can't be destroyed, as it is still of historical value. A unique feature of Nether Alderley Mill is the triple waterwheel system, and it is the only one out of four corn mills in Cheshire that is virtually complete.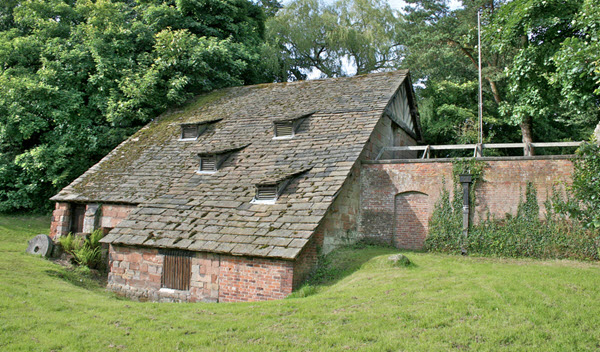 ---
A special thanks to binaryoptions.net that helped with this article by paying for my trip to Nether Alderley Mill.  If you or your company want to help me by paying for a trip then you are very welcome to contact me using the form here. I will be more than happy to thank you publicly on the page /pages that I write on my trip.  Binaryoptions.net is a global binary options trading guide that wants to help you avoid getting scammed if you want to trade with binary options.  Binary options are a type of financial instrument that allows you to speculate on future market movements and earn large profits if your predictions come true.   It is a high risk high reward financial instruments.  I tried trading with binary options with IQ options. I made some money from it but quit since i did not have the nerves for it.  If you do, and if you have the discipline to wait for the right opportunities, then it can be a good way to earn money. Visit the website here if you want to try trading with binary options.
---
Interesting Facts about the Mill
It has a rectangular shape and an exterior made of pink ashlar sandstone – which gives it a very distinct look. The roof has a frame made of Elizabethan oak, and it weighs as much as 200 tons. The back wall supplies the water, which goes into wheels with a diameter of approximately 4 meters. These wheels do not rely on each other; instead they run separately, creating 2 mills where the water can go from one to the other.
History of the Mill
This is a 16th century mill, but its origins can be traced back as far as 1290. The old machinery has unfortunately not been saved, as it was replaced once in 1850 and again in 1871. The mill closed its doors for a while back in 1939, when it was abandoned for some years, and it wasn't until 1967 that renovations started that would prepare it to reopen. During those years of closure, it was at risk of becoming a ruin, but luckily The National Trust took over in 1950, and was able to carry out the renovations that restored it to working order. They worked on it for many years and, in 1970, it was operational once more.
A Unique Piece of Tradition in the Community
The mill means a lot to the locals in the area, as it carries years and years of tradition. The old machinery had to be replaced in recent years, as the Elizabethan equipment had deteriorated, but the history remains, and the community is still proud to showcase the old mill. Before visiting this type of attraction, it is wise to do some research to make sure it is currently open for visitors, as renovations might be taking place, and opening hours are sometimes limited in any event. Visiting the grounds is, however, a great experience for anyone who wants to explore a true historic site, and go back in time for a short moment. Just stopping by to take a look at the beautiful exterior with that pink sandstone is reason enough to plan a visit, and it is the perfect opportunity to get a glimpse of what life was like many years ago. Despite several renovations, the mill keeps its historic feel, and is just as unique as it was in its previous incarnations.